1. Maleficent (2014)
2. Joe (2013)
3. The Purge (2013)
4. Evil Dead (2013)
REVIEWS:
---
1. The Happy Zombie Sunrise Home, by Margaret Atwood and Naomie Alderman
2. Red, by E.J. Koh
3. The Complete Guide to Buying a Business, by Fred Steingold (DNF)
4. Hum, by Jamaal May
5. The Blue Place, by Nicola Griffith
6. Fangirl (audio book), by Rainbow Rowell
7. Save the Cat! The Last Book on Screenwriting That You'll Ever Need, by Blake Snyder
8. Parasite, by Mira Grant
9. The Arabian Nights: Tales of 1001 Nights, Vol. 2
REVIEWS:
---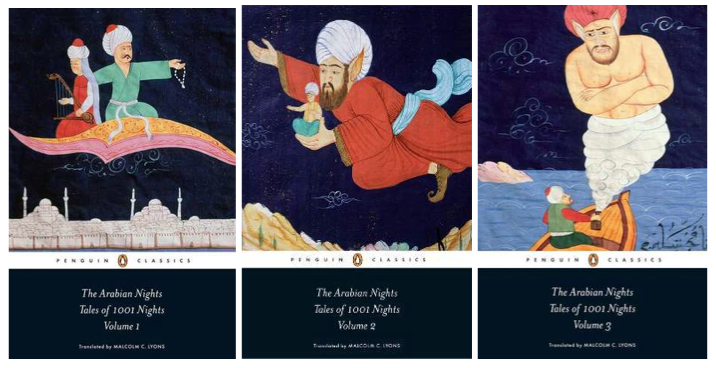 Volume 2 of The Arabian Nights begins with night 295 of tales and goes through night 719. The stories at the beginning of the book are all very short, some only around a page or two long, and it wasn't until about halfway through the book that the tales grew into longer epics once again, including the seven voyages of Sindbad. There's a lot of risk of tedium when you binge read these books like I'm doing. The shorter tales all stacked on top of each other begin to blur together and longer tales can grow to such epic lengths as to be too long, and long or short there are repeated kinds of stories, themes, and phrases throughout. But if I had not read these books in the rapid way I'm going, I'm not sure that I would have figured out the genius of Shahrazad.
Continue reading
---
As I mentioned in my review of Save the Cat!, the value of any how-to book is whether it inspires you to take action. For the past several months, I have been stalled out and completely avoiding working on my werewolf novel, The Cold Nothing Taste of Winter. After drafting about two-thirds of the book, plot problems proliferated and I didn't know how to move forward toward the ending. Since a lot of my fellow writers have been recommending Save the Cat! recently, it seemed like a good idea to give it a read and see if it sparked the flame of progress once again.
It did just that.
Here are a few of the tools from the book I'm using to try to build forward momentum.
---
Save the Cat!: The Last Book on Screenwriting You'll Ever Need by Blake Snyder provides a guide to screenwriting from an industry perspective, focusing on what a writer needs to do to prep for the act of writing. These techniques include creating a logline (or one-line), watching and analyzing movies in your chosen genre, creating a beat sheet, and building a board to layout scenes as a form of outlining. Skipping over actually writing process, he then reveals some screenplay "rules" and somethings to look for during edits if the finished draft isn't working.
---