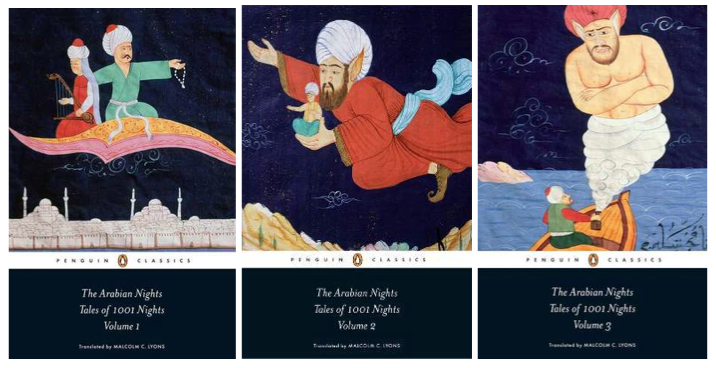 When King Shahriyar discovers his wife to be unfaithful, he begins to marry young women, only to behead them in the morning. In order to save the young women of the region, Shahrazad gives herself to the King Shahriyar. She is not expected to survive beyond dawn, but during the night she begins to tell tales, each night ending the story in the middle, leaving the king desperate to learn the ending and allowing Shahrazad to live another day.
One of my reading goals for this year is to read the complete version of A Thousand and One Nights. My aim was to find a translation that was as complete as possible, including "Aladdin" and "Ali Babba and the Forty Thieves", both of which were added in the 1700-1800s. Since there are many translations, I eventually settled in the Penguin Classics version, The Arabian Nights: Tales of 1,001 Nights, which comes in three giant volumes and claims to be as complete as possible. (Plus I really liked the covers.)
Volume 1 is 980 pages long. It includes the beginning of Shahrazad's marriage to Shahriyar and provides up through night 294 of tales, as well as "Ali Babba and the Forty Thieves" as an appendix.
Shahrazad's tales range from adventure yarns with djinn to morality tales, love stories, fables, and war epics. Despite the variety of tales, there was also a great level of repetition, with similar descriptions of characters or expected outcomes. Though this should be expected due to how many stories there are, it can get burdensome for some readers, I'm sure.
The stories are also often nested, a tale within a tale within a tale. Just as Shahrazad saves herself through the telling of the tales, many of the characters within her stories also save themselves from death in a similar way. For example, kings are of ten saying, tell me story more wonderful than what has just happened or I'll cut off your head. The nesting not only allows Shahrazad a longer tale to tell, which keeps her alive for more nights, but also shows how valuable the act of storytelling was thought to be. Sometimes the nesting becomes a bit too much, though, and there are so many stories within stories, it can be easy to forget the original story, until it's finally returned many pages (and nights) later.
Continue reading