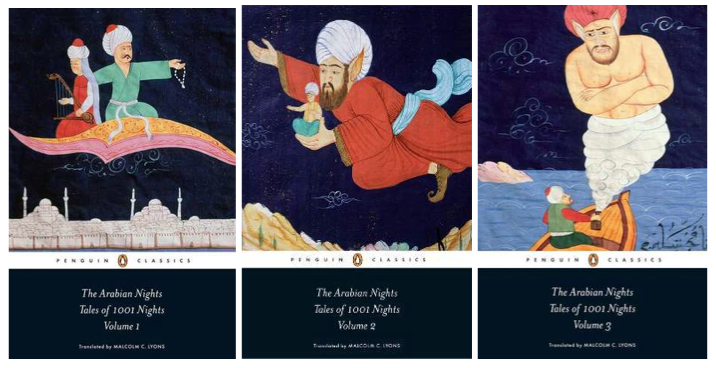 I have officially finished all three volumes of The Arabian Nights, a 2,715 page journey!
Volume 3 comprises nights 719 to 1001, as well as the "Aladdin, or the Magic Lamp" standalone story. This third volume has proven to be my favorite, as there is less repetition (same kind of story followed by same kind of story) than in the previous books and some stories that begin on well trodden themes actually branch of in surprising directions. Adventures, romances, and comedy tales mix together with morality tales in a broad spectrum of stories, many of which I found rather fun and interesting.
Shahrazad's Tale Comes to an End
As I mentioned, in my review of volume 2, we can see Shahrazad's story and dramatic progression through the tales she tells, guiding King Shahriyar to a different perspective on women. By volume 3, I get the sense that Shahrazad has relaxed, which allows her to explore a greater variety of tales. She probably senses him coming around and so can use the tales more as entertainment than for moral and philosophical lessons.